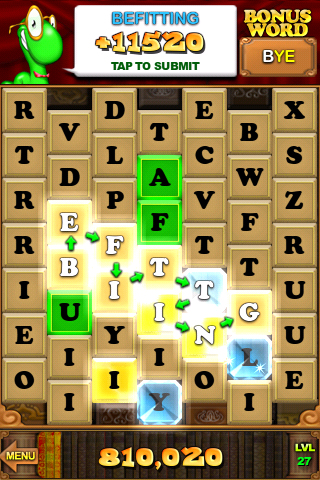 I have officially entered the future. Or, more accurately, I've entered the present — only a year or two behind my contemporaries. After much debate I broke down earlier this month and bought an iPhone. I had been using my husband's for reviews, and finally decided that I was missing out on enough button pushing it was time to get my own. Surprise, surprise, one of the first apps I downloaded was Popcap's Bookworm, a word-nerd favorite of mine that has, in its original PC incarnations, brought me many happy hours of Scrabble-esque satisfaction.
However, I can't say I'm enjoying Bookwork on the iPhone. It's not that Popcap, diligent as always, has gotten anything wrong with the app. In fact, it's its sheer usability that's bumming me out. I can — and do — start up a new game every time I have two minutes at the bus stop, thirty seconds in the coffee shop line. This should be a good thing; it means Bookworm is easy to start and stop, as well as generally addictive. Unfortunately, in having so much access tothe game, and in tiny snippets, I'm getting a much less satisfying play experience.
What I miss is the separate space of play — of having to sit down at my computer (or even better, in front of a console) and decide to start up the game, forsaking all other windows, all other tasks. This made Bookworm feel like a special activity, a treat, contained in its own (oh dear, I'm going to say it) magic circle. Mobile gaming breaks the magic circle into shards, making it permeable, accessible, but also less, well, magical.
iPhone games aren't going anywhere anytime soon, and certainly the world of the future — have I mentioned all the emails I send via my phone are signed "Sent from THE FUTURE"? –deserves quick play moments to fill morning commutes. Still, I hope that as the video game industry progresses from the macro to the micro we remember the immersive experience of setting time and space aside to play, instead of letting that magic disappear into our everyday lives.. even if that magic is as simple as the feeling of success when a green, nearsighted worm chomps down on my occasional six-letter word.