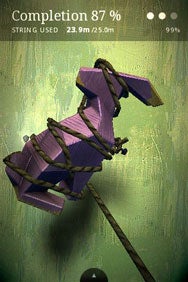 iPhone games are the wave of the video game industry future – or so companies like Zynga would have us believe. So maybe it's not so shameful that I haven't been playing many console games recently (the last thing I tried: Vin Deisel's Wheelman; my recommendation: do not do the same). I have, however, been playing iPhone games – and reviewing them for MacWorld, somewhere I came very close to working before deciding to go full-time freelance. Macworld works on a "web first" model, which means these reviews may or may not appear in print:
Sally's Salon
Zen Bound
My Stop Smoking Coach
Drop 7
AliceX (not up yet, but soon!)
I've been trying to focus on longer pieces lately, but I also enjoy keeping one foot in reviewing, since writing about game culture can start to feel tangential to commenting on games themselves. As for the iPhone apps I've reviewed, they haven't all been knockouts that make me want to trumpet the new superstars of the industry; I'm not a smoker, but Allen Carr's Stop Smoking Coach tempted me to start. Still, it's nice to be on the forefront of the "Are small games the new big games?" issue.
Do I feel like Zen Bound is the next Bioshock? No way. Do I think I can do anything about it if casual games end up replacing cinematic, big budget studio titles? No. What I can do is sit back and enjoy the act of tying up wooden animals. iPhone bondage practice, anyone?