Can't a girl head offline for one, tofurky-filled holiday without the whole internet going to hell? Upon returning to California yesterday evening, I found an email from Ning, the people who host the software for Beautiful Stranger. Well, not any more apparently. In their own words:
As a Network Creator of an adult network on Ning, we have an important announcement regarding your social network.

As of January 1, 2009, we are discontinuing support for adult social networks on the Ning Platform.

We're not discontinuing support for adult networks because we no longer believe in the freedom to create your own social network for anything as long as it's legal. We do. Practically though, supporting adult networks no longer makes sense…

For those of you who created and worked hard on your adult networks, we appreciate your work and dedication and wish there were a different answer.
So, in less than a month, my cybersex matchmaking site — which I've put hours of work into and has 100+ members — is just going to disappear? You've got to be kidding. I've been writing back and forth with a Ning representative, trying to negotiate a different decision. Could I get a paid Ning site and keep my content? Could I transfer Beautiful Stranger onto a different URL, one that's not associated with Ning? Could I somehow tone down the content so it no longer falls into what Ning is calling on its blog "the red light district?"
Needless to say, I'm outraged — on both moral and pragmatic grounds. Over at their blog, the Ning team is claiming they're all about pragmatics too. Here are the reasons they give for shutting down my site and sites like it:
1) Adults sites don't bring in enough traffic. Seriously? Oh wait, they eventually admit, it's more like their advertisers feel uncomfortable with them. That's odd, since the ads they run on Beautiful Stranger are a heck of a lot raunchier than my cybersex site, which comes with explicit rules about conduct I couldn't even get Ning to uphold in our advertising.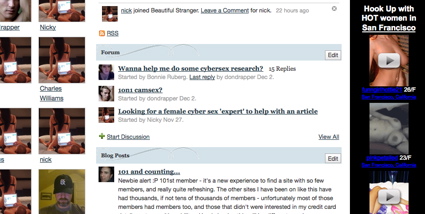 2) Too many people have made "illegal" adult sites. Like what? Prostitution sites? I can see how that would be a tough call, but couldn't you just assign someone to keep an eye out for illegal activity instead of shutting us all down? Does every porn site get axed when the cops spot a few doing something illegal?
3) Adult sites are more likely to infringe on copyright issues. If you say so, Ning, but it still seems this should be done on a case-by-case basis. What about Beautiful Stranger says "DMCA" to you?
The most ridiculous part is Ning is essentially giving us users — the ones who trusted them with our time, energy, and content — absolutely no options. Also from the blog:
Our focus is on creating incredibly simple, beautiful software and rapidly adding new features for the benefit of all. We can't do that as efficiently as we need to and still support adult networks on Ning. It's that simple. We've discussed and debated various ways to keep adult networks on Ning operating, including requiring them to be private networks or partnering up with someone who can make them self-sustaining. While there are strong cases to be made for either one of these solutions, they don't enable us to focus our team on the most efficient execution of the Ning Platform possible.

This is important in all circumstances, but in this recession we have to be relentless in providing the most compelling service in the most efficient way possible. Therefore, from a practical perspective, the only practical answer we see is a clear elimination of adult networks from the Ning Platform altogether.
This isn't a pragmatic decision, it's a purge. Why else wouldn't we be allowed to at least work our sites, instead of seeing them disappear? If I had to guess, some major advertising backer probably threatened to pull unless Ning distanced itself from all its questionable content — and fast. Now anyone linked to sex is collateral damage.