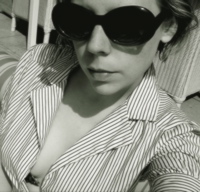 Blame it on the fact that she's awesome. Blame it on the fact that she's hot. One way or another, I've become a sucker for the blog of ex-sex worker and all around tech sexpert Melissa Gira.
As part of the "Future of Sexuality" conference in Amsterdam two weeks ago, Gira gave an online talk about "Sex in the Information Age." The recording isn't online yet, but there is a teaser Q&A with Gira here–if you can wade through the question side in Dutch. What interested me was her description of the talk:
Sexuality, as it is produced by social software, makes sexual networks visible and hackable. What has come to be known as Web 2.0 — microblogging, ubiquitous computing, tools to push continuous partial attention & presence, and the rise of social networking — powers a space where sex is simply another facet in our networked lives. Can the information age improve sex? What conflicts arise from social networking & managing online identity? Are we innovating sexual communities? And on what ethic is Sex 2.0 founded?
There's a lot to parse there and ponder there. Specifically, it reminded me of my Click Me about Zivity–the site's that trying to be a Web 2.0 space specifically for sexuality. That piece in turn was sparked by an interview Regina Lynn did with NPR about porn and social networking. How exactly do you express sexuality in an environment like, for example, Facebook?
If the musings of one ex-sex worker doesn't satisfy your industry cravings, check out this week's Click Me. It's about an ex-escort who's written a book that teaches fellow independent call girls how to advertise and keep safe by using the internet. Plus it comes with tips for avoiding the fuzz. Cheese it!