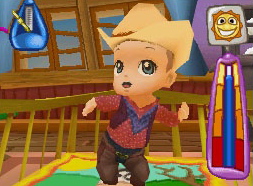 With or without a review copy, I'm determined to have something to say about Ubisoft's babysitting sim, Imagine Babyz. Released this October, Babyz is part of the Imagine series, a collection of Nintendo DS titles Ubisoft is trying to market to young girls. Other games include Imagine Fashion Designer and Imagine Animal Doctor. It's true: if there are three things women can do, it's raise children, design clothes, and tend to wounded animal. Oh, and bake pies. That's why there's also Imagine Master Chef.
When the series was announced, it got heat for being, well, amazingly sexist. Sure, girls games aren't all bad. They appeal to female players who might not otherwise take up gaming. Besides, professions like veterinarian or chef are hardly career choices to scoff at. Still, the fact of the matter remains: aside from being plain old lower quality than non-girl games, titles like these pigeon hole female players into "women's professions." Where's the pretty pink version of Imagine Firefighter, or Imagine Corporate Lawyer?
Of the Imagine games, Babyz has incited the most finger wagging. Why? It turns child rearing into a game, it inspires young girls to want children, it seems to have the gender sense of a 1950's health ed teacher: take your pick. Of course, early speculation that Babyz was a game about actually having children were quelled when it turned out the game was a mere babysitting simulator. Still, taking care of infants is taking care of infants–whether they they popped out of your uterus or someone just dropped them at your grandma's house for the afternoon.
I'd like to be able to say Imagine Babyz is bad. Or good. Or anything. Honestly, I have zero gameplay input–though the singular review I've come across gives it a whopping 3.5. So in the place of actual constructive criticism, I give you sex and gender deconstruction.
First there's the idea of "playing mom." Pick up Babyz, and you're doing this in two senses: first, as a babysitter, you're playing the role of the mother substitute. Second, as the game player you're playing the role of the babysitter. Lots of children "play mother" to their dolls, their friends, etc. That in and of itself is nothing new. What's interesting is to see the role played in a structured, game format with preset gameplay rewards. Rock the cradle well, gain points. Forget to feed your charges, lose them. Oddly enough, what we're being reminded of here is that motherhood itself–like gender–is a role to be played, not an inherent state. For such a sexist game, it's a strangely feminist message.
We could also talk about why children play mother in the first place. Have you ever watched a toddler pretend to coddle a plastic doll? To tell the truth, it's kind of creepy. Why would a child that small want to be a mom? Kristeva says (yes, I'm breaking out the psychoanalysis) it's because the female child wants to be closer to her father. Subconsciously, she believes the father of her new baby is her own father. She replaces her mother as an object of affection by becoming a mother herself.
Now it's time for the fun over-analyzing! Can we read Kristeva's theory into girl games? Are Imagine Babyz players somehow usurping the power they currently lack as consumers in the games industry? If Babyz is the toy baby in question, then the industry would be its "father," and us reviewers and players are the child busy coddling it. That would mean the attention we give to the game–both negative and positive–is really be energy diverted from the paternal "industry," who's love we're hoping to turn toward ourselves. But then who would be our mother?