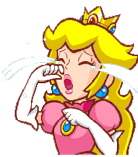 France is a wonderful place: squishy cheese abounds, the world is sunny, small children fascinate me with their superior language skills. Still, when it comes to reviewing, this whole expat thing kind of blows.
I've officially been waiting now for almost a month for my copy of Mario Galaxy. The day I sent Nintendo PR my new address, they picked up and stopped answering my emails. Then there's Imagine Babyz. Nintendo isn't worried about a lack of coverage for Galaxy, I get that. But wouldn't you think the Babyz PR people–when their game has exactly one review on Metacritic–would be interested in a little more coverage?
Okay, maybe they read Heroine Sheik. Maybe they realized I'd analyze it and tell it it had penis envy, or something wacky like that. But still. The most annoying part is that I can't even break down and pay good, old-fashioned, non-American cash moneys for my games here. Not only are they mad expensive now that the Euro is so much stronger than the dollar, they're just straight up not compatible with my systems. I've got a Wii and a PS2 literally three feet from my face, and I've still got the Ireland problem.
Oh, the price of living in a land where there are so many palm trees to hug…
P.S. Sorry for the continued technical problems that have made it hard to post this week. Heroine Sheik is now officially updated (from the back end, at least) and ready to go!