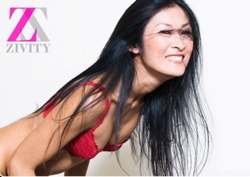 Sure, you know how to get naked in front of a webcam. Heck, you even know how to get naked in front of a webcam in style. But do you know which webcam to buy? Or what video-editing software to invest in to ensure the sexiest possible return from your nudie footage?
Ever since Click Me covered the webcam basics, the internet has been a land of advice for online sex enthusiasts who like taking it off for the camera. Okay, that might be an exaggeration. Still, first there were these tips from Boinkology.com. Now, there's a super helpful post up at Sexerati.com, the blog of sexpert Melissa Gira, with a load of technical details. Prepare to have a geek-gasm.
Or, if you're more in a porn-browsing rather than porn-making mood, check out this week's Click Me. It's about a new community-based, pay site called Zivity where female models can post sexy pictures of themselves and get paid according to popularity. It might just bring a jolt of web 2.0 to the online porn world–except, strangely enough, that the site refuses to call itself porn. Once Zivity finally comes out of beta (and out of the pornography closet), we'll see if it fizzles into internet sex oblivion, or whether it can put its million plus dollars in investments where its cyber mouth is.