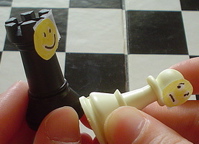 The world of sex games can't be all pre-rendered nipples and realistic breast physics. Up on his blog, Ben Yehuda has an exhaustive list of non-digital sex games categories–including sex ed, naughty Twister, and even tentacle-related card games. Yehuda explains:
There are games whose subject is about sex, games that are supposed to stimulate sexual desire, and games that are supposed to educate you about sex. There are games to be played before sex and during sex; I haven't run across any games yet that are meant to be played after sex… The term "sexual games" generally has nothing to do with games at all, but connotes power negotiation within a relationship…. A large number of "sex games" exist in order to help break down the power struggle of psychological "sex games"…Doing what the dice says in the context of a game is somehow more acceptable than doing the same thing when it's your partner who's asking.
Interesting point. Remind me to tell you a fun story about sexy dice sometime. Anyways, Yehuda also has a category for games that merit "special mention." Among them is a game called Indecent Proposal:
In this game whenever you land on a square you actually offer (game) money to your spouse for performing a task or collect from your spouse for acceding to a request. The object is to gain enough money to earn the right to do something that you really want to do.
Yehuda seems pretty down on this game ("I don't know what bothers me more: turning yourself into an actual whore, or the message that a healthy approach to sex is to persuade someone into doing something that they really don't like to do") but I think the premise is strangely cool. For one, the money, even the sex, remain with the economy and magic circle of the game. For two–can you say that?–the system, however blunt, does seem to mirror real sex politics. I do something for you; you do something for me: same concept, just with more play money. Besides, all the cool girls are into point prostitution…